Virtual WorkPlace
Flexible desktop and application access from virtually anywhere on any device that follows you wherever you go.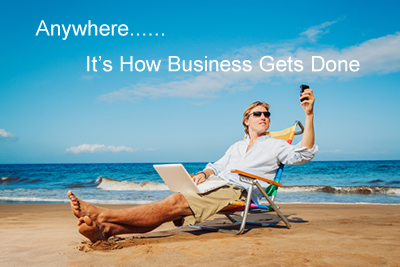 To you and your employees any place is a workplace and any device should give you ready access to your desktop as well as corporate applications and data. With Media3 WorkPlaces, the traditional device based desktop moves to the Media3 cloud environment providing your business with increased agility, flexibility and protection.
Rather than storing programs, data and applications locally on a PC hard drive, Media3 WorkPlaces runs on our remote centralized cloud platform within a state-of-the-art Media3 Data Center. As employees work locally, the files and programs they use are being processed and delivered from our cloud environment which you access as a service for a fixed per instance, per month price.
Provides access from virtually any device (smartphones, tablets, desktop pc's and laptops and a variety of platforms and Operating Systems ie windows, Linux, iOS, Android).
WorkPlace is the ideal choice for any organization looking to take full advantage of the benefits of desktop virtualization while avoiding the high cost and complexity of deploying a solution in house.
Available in 2 Flavors:
Beefier machines intended for multiple user access and granular control over user application access. Starting at $125 monthly.
Simple pay-as-you-go pricing from $39 monthly. No Hardware or Software Purchases
Available as Individual Personal Desktops or Corporate Application Machines for multiple users and granular access control
Pick up where you left off... your desktop follows you wherever you go
Web based access to your apps built in
Eliminates Software license and compliance issues
Launch a single app or the entire desktop
Easily Distribute Your Apps to Employees via email
Easily Manage Users, Groups and Apps with our proprietary control panel
Access your apps from anywhere on any device
100% Uptime SLA
Assures business continuity in the event of a disruption at your location
Dynamically Scalable Platform
Your local peripherals (printers, scanners, speakers, cameras,etc) function the same as always
Icons Run from your desktop the same as locally installed programs
Access our complete inventory of Microsoft software on a monthly pay-as-you go pricing model (Office, Visio, Sharepoint, Exchange, Lync, etc)