Microsoft Azure Services
With the large number of Azure offerings, it can be intimidating to understand which solution you will need. And once you have the solution and infrastructure, monitoring,optimizing and managing it becomes another challenge. That's where we come in. We have been providing managed hosting solutions since 1995. We provide experience managing your cloud environments from implementation to day-to-day monitoring and proactive management.
---
Leveraging our existing partnerships with Microsoft, Adobe, cPanel, Smartertools and many others, we're able to bring you the simplicity of a virtual machine and the full power of the Microsoft Azure Network in a single turn-key solution. Managed, monitored and supported by us, in over 100 datacenters around the world.
Tier-1 Microsoft Cloud Provider
Full Turn-Key Managed Solutions
Initial Consulation / Infrastructure Setup
Simple pricing
24/7/365 Live US Based Tech Support
Over 100 datacenters serving more than 140 countries
Windows and Linux
ColdFusion, Smartermail, cPanel, Plesk and more
Easily Spin up servers, sites and databases on demand
Simple and flexible control panel to manage your cloud with full mobile web app
Industry leading 100% SLA gives you the peace of mind you deserve
Complete Dynamically Redundant and Scalable Platform
HIPAA and PCI Compliant Solutions
Geo-Load Balancing and Failover Options
Redundant Azure SQL and Mysql databases
2-Factor and Federated Authentication Options
Azure Datacenter Video
Check Out Our Easy To Use Customer Portal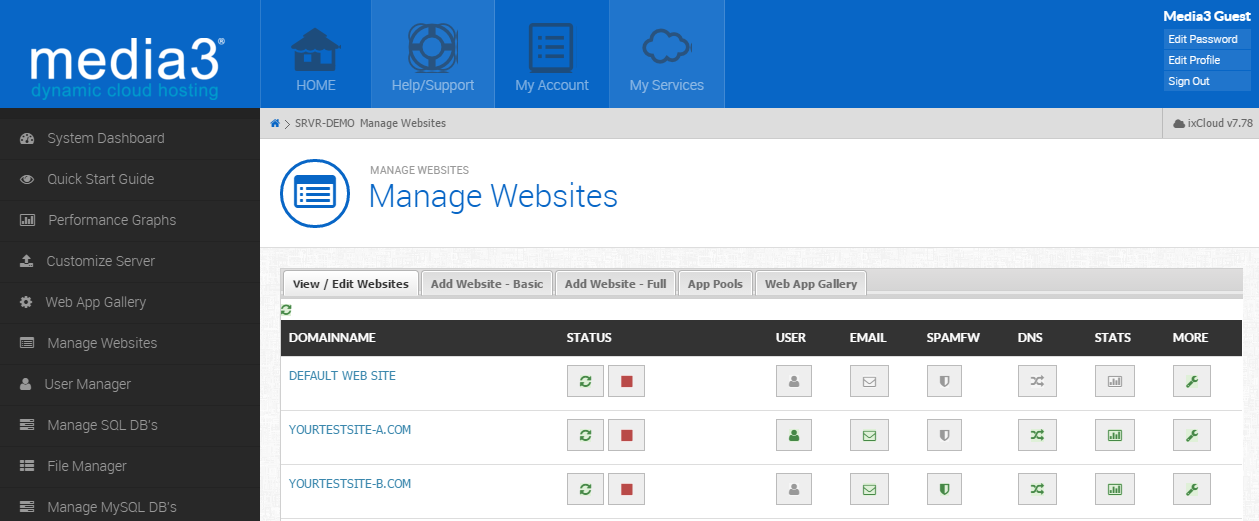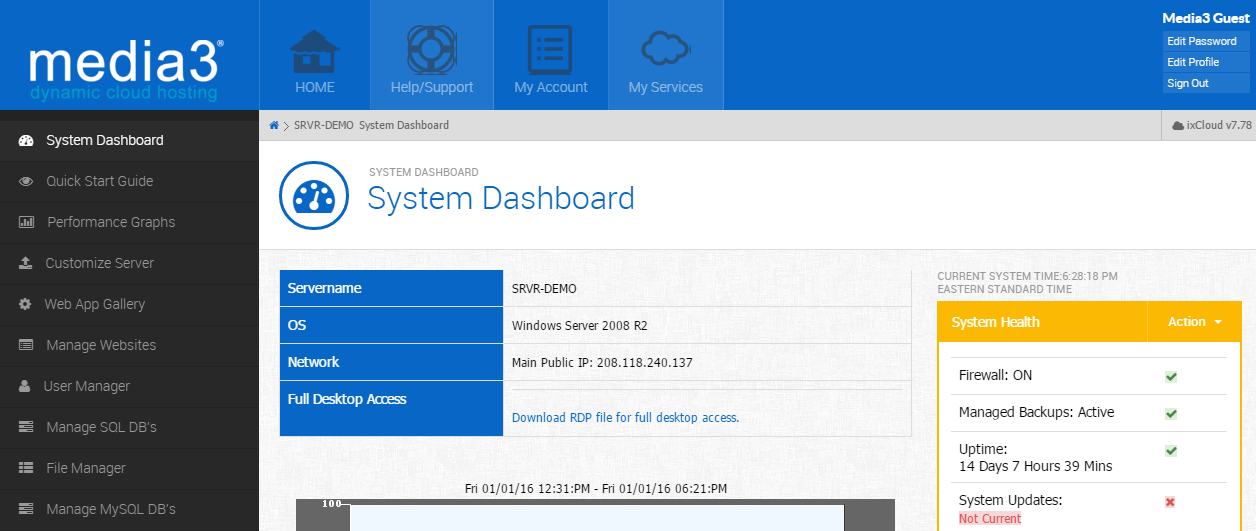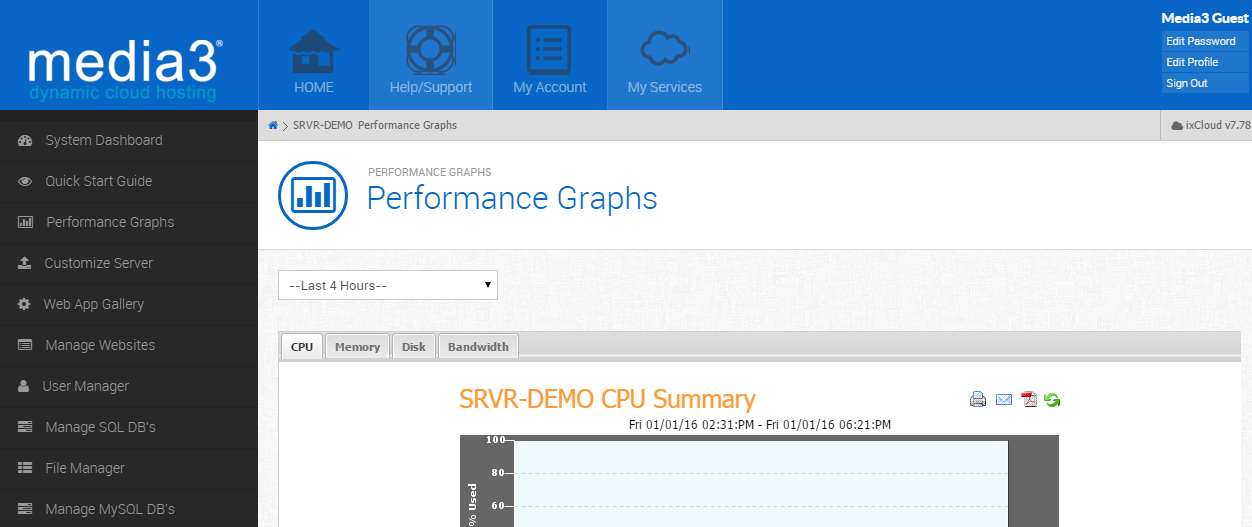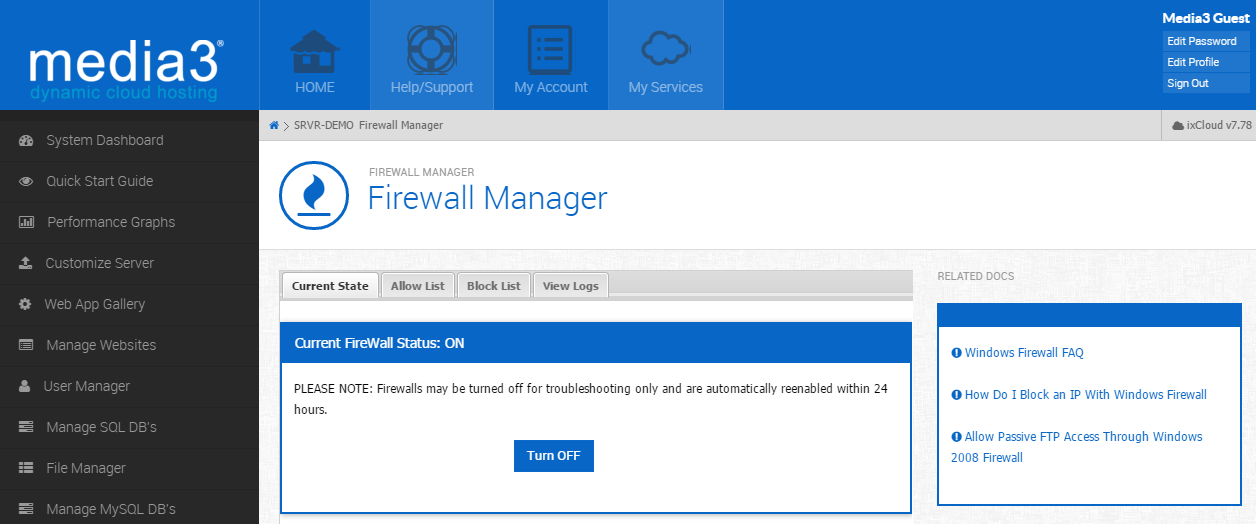 ---
Full Featured-- Ready to Go
Turn-key Solutions, managed, monitored and supported by us in over 100 datacenters.
Best in Class Database Servers
Reliable database server hosting is absolutely critical to your applications. Database servers are an essential component in today's information-driven computing world. CRM, ERP, shopping carts and content management systems all leverage highly active databases to output dynamic content in real time. At Media3, database server hosting is a core focus. We provide system administration and support to all of our database hosting clients. We are experienced in optimization of databases and database servers, generating fine-tuned speed and performance.
Complete Control -- From Anywhere
Our exclusive ixCloud Control Panel gives you total control and our mobile web app is perfect for your iPhone, iPad and Android devices allowing quick and easy control of everything related to your account.
Powerful, Insightful Analytics
SmarterStats Web analytics, site tuning and SEO software delivers accurate website statistics that help webmasters,marketers and developers improve search engine rankings, website performance and overall marketing efforts. Includes over 100 different report items that analyze website traffic, a complete set of search engine optimization tools to help manage SEO campaigns and site tuning analytics that help improve a site's overall performance.
Premium Anti-Spam/Anti-Virus
Email Spam and Virus Protection Powered by award winning Barracuda™ Networks Technology. It leverages 12 comprehensive defense layers to provide industry-leading defense capabilities for both large corporate and small business environments.
Friendly, Knowledgeable Support
Media3 is a customer-centric organization designed to seamlessly compliment your internet initiatives. Our friendly 24/7/365 customer service and technical support lets you focus on your core business while we focus on and manage your cloud hosting needs.
Free Migration Assistance from an Experienced Team
Media3 Provides free migration assistance for all new and existing customers moving hosting to our services. Whether its a single database or an entire server farm, we have an experienced team to help make your transition a smooth one.
World Class Datacenter Facilities
IT pros will appreciate our world-class infrastructure built from the ground up for enterprise class performance, reliability and scalability. SSAE16 certified, HIPAA compliant, PCI Compliant, diverse redundant fiber optics carriers, redundant (N+1) power feeds, dual-factor biometric fingerprint scanners protecting the entire datacenter environment, and more ..
State-of-the-Art Technology
Media3 has been a leader in developing best-of-breed hosting solutions since 1995.As one of the first hosting companies to offer Windows Hyper-V Hosting, Windows 2016 Hosting, Adobe's Coldfusion 2016 Hosting, Microsoft SQL 2016, and many others, you can count on us to keep you and your site on the forefront of web technology.
Simple Pay-as-you-Go Pricing
With no Long term contracts and our simple pay as you go pricing, you have the flexibility to make changes, upgrade, downgrade or cancel at anytime.
There are so many reasons to choose Media3, here are a few :
---
24/7 US Based Tech Support
Free Migration Assistance
Available in over 100 Countries
State-of-the-Art Technology
World Class Customer Care
Global DataCenter Facilities
Don't just take our word for it.
Our Support is responsive and friendly.
Available 24/7/365

"Your outstanding service is why we stay with Media3. Many thanks (again)."
"As always, Media3's staff continues to be imformative and efficient. I appreciate your prompt response and the background information to our problem. Keep up the good work."
"You guys are always fast with whatever support I need. As my web business grows, I will continue to use media3 for all of my hosting needs. I'm so glad I found you after some really bad hosting experiences."
"As usual, once again your staff has been incredible. Today I pulled a typical stupid user trick...couldn't log in because I incorrectly read the information I was given. You guys didn't even blink..just wrote back a very courteous reply. Thank you very much. Your professionalism was very much appreciated in light of the day I've had. *grin* "
"Nice guy, easy-going, friendly, willing to work with me, went over-and-above the call of duty to suggest creative fixes my problem ."
"As they would say ........ Sweet!"
I'm a new customer and have found your staff so far excellent, from initial operator/customer service, sales, to tech support. Thanks!"
"I appreciate all of your help. Everyone was very helpful in setting my account up and getting me on my feet. The staff really went above and beyond the call of duty in helping me. I hope to continue working with you guys for a long time to come."